Silica cat litter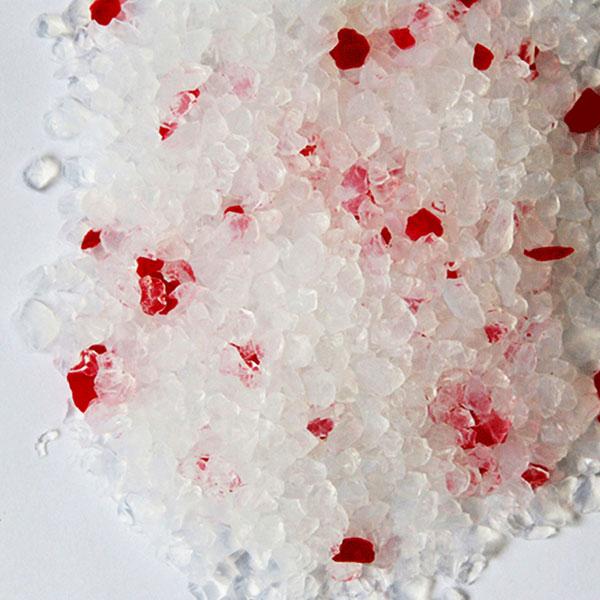 [product introduction]
Silica cat litter is also called crystal cat litter, which is a model, ideal pet waste cleaning agent, has excellent characteristics of previous clay cat litter is incomparable. Using silica gel as litter in recent years is a major change in the litter industry. The main ingredient is silica, liquid can quickly absorb the pets excrete urine, faeces and thus products, smell and keep dry, non-toxic, no pollution, is a green product for family use. In the current international market the most popular cat litter is the appearance of silica cat litter is a white granular, according to customer demand can be incorporation of particles of different colors, the product is light weight, low breakage, which could inhibit the growth of bacteria.
[product characteristics]
1, strong deodorant. It can put the urine or fecal odor does not hold out, keep your room with fresh air and no smell.
2, super fast moisture absorption. It can be in a very short period of time fast ceiling do pets excrete urine and fecal moisture; moisture content of more than 80% of its own weight and still maintain the appearance of a dry.
3, lasting effect. Litter 3.8L/ bag for a cat to continue to use more than one month.
4, strong antibacterial. Because the cat litter box dry, reduce the breeding of bacteria. If you use the antibacterial agent has the bactericidal effect of litter.
5, easy to deal with. Silica gel cat litter is no caking, leaving no imprinting, no dust, light weight, small amount of rubbish can be as ordinary garbage out; home use is convenient and safe.
[usage and dosage]
1, in a clean cat litter box shop on a layer thickness of about 1.5 inches of cat litter, regular cleaning after use of garbage, to keep clean; if it is more than one cat, can according to the proportion of relationship change a litter of cycle, rather than in the cat litter box pass more cat litter.
Litter 2, saturated in a timely manner to be cleared from the box with the spoon.
Methods to extend the using time of litter:
1) when using the litter box to choose placed in dry and ventilated place.
2) when not in use, cat litter should be placed in a dry place.
3, a bag of cat litter 3.8L usage: a cat, one month; two cats, 15 days.